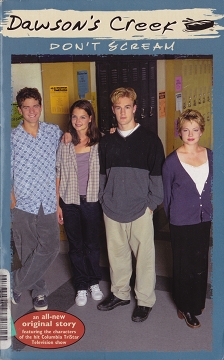 This week, let us journey to Capeside, MA, for an original story featuring the characters of the hit televion series Dawson's Creek: "Four teens ready to take on the world. They're learning about life, and learning how to love."
Don't Scream appears to take place sometime during season 3 of the show, and conforms to the series' canon. So Jen has her horrible haircut, the self-effacing gay character is there (contributing little more than ambient gayness- I guess in 1998 that was enough). Joey and Dawson have already undergone two rounds of making up and breaking up (before the show's end, there would be four in total). To quote Dawson, "I ask you, Pacey, can people survive being best friends for years, then being a couple, then not a couple, then friends, then a couple, then not a couple?" The short answer is no. The long answer is watching all six seasons of Dawson's Creek, which no one should ever do.
As our tale begins, a film crew has come to scenic Capeside to shoot a horror movie. This could be Dawson's big break! A true cinephile and aspiring filmmaker, Dawson seizes every opportunity to drop movie references (ex: "He looked at Joey, and the contents of his stomach gyrated like the cameras in The Blair Witch Project.") In the course of this slim volume, TWENTY different films are mentioned, amounting to what would be a surprisingly diverse and awesome mega-marathon: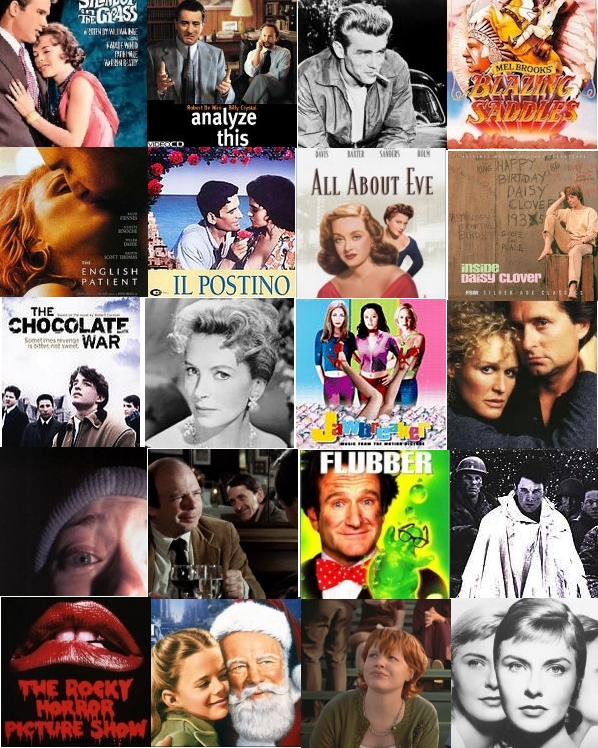 (left to right: Splendor in the Grass, Analyze This, Rebel Without A Cause, Blazing Saddles, The English Patient,
Il Postino, All About Eve, Inside Daisy Clover, The Chocolate War, Tea and Sympathy, Jawbreaker, Fatal Attraction, The Blair Witch Project, My Dinner With Andre, Flubber, A Midnight Clear, Rocky Horror Picture Show, Miracle on 34th Street, Can't Hardly Wait, The Three Faces of Eve)
Except DON'T see The Chocolate War– Dawson says it's his least favorite movie of all time!
So readers, how many of these movies have you seen? I've seen 13 out of 20, which means I am merely %65 the cinephile that Dawson is. How do you score?